Official presentation of Tenute Tonalini 1865

1 February 2018
Tenute Tonalini 1865
---
18 MARZO 2018
Via Marconi n. 10 – MONTU' BECCARIA (PV)
Our ideas take place in the Cantina Storica di Montù Beccaria, where wine is produced by more than 100 years.
Tenute Tonalini 1865 is our new brand, with 17 labels: still and sparkling wines as result of our experience, improvement we have from 5 generations.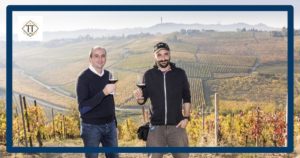 On 18th march Fabio Tonalini e Davide Nespoli will present Tenute Tonalini 1865.
Open invite for wine lovers and experts on Sunday 18 th March 2018 at 17.00
Programme
17.00 Start of official presentation of Tenute Tonalini 1865
17.45 Wine tasting
19.00 Buffet with local food, prepared by Luisa and Franco of Restaurant Locanda dei Beccaria.
For information
Caterina – tel. 0385.262252
Email: eventi@tenutetonalini1865.com